Stem cell treatment is a more efficient method of therapy
 

Prof. Alexander Smikodub

MD Ph.D

 

Alexander Smikodub jr.

MD Ph.D
Unique Cell Treatment Clinic is glad to help you
Unique Cell Treatment Clinic since 1994 has successfully treated a wide range of diseases with preparations based on fetal stem cells. For the treatment we use only our own proven and patented methods, which are based on our experience and the latest advances in stem cells research. Our preparations based on fetal stem cells allow the human body to supply the resources of their own stem cells, lost due to aging or due to acute and chronic diseases.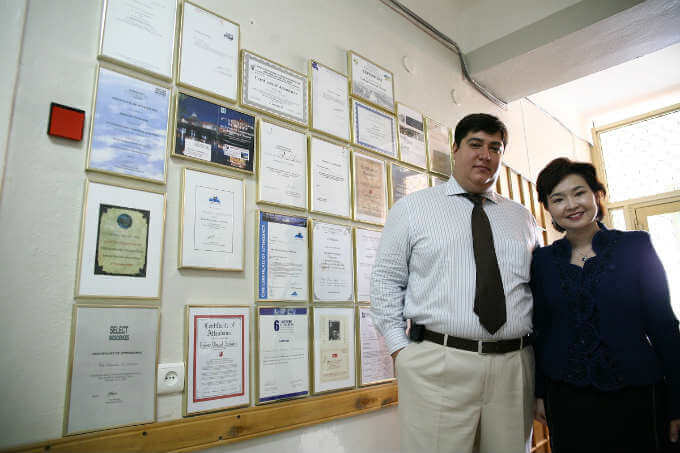 Stem cells of fetal origin have the following unique features:
1. Pluripotency - are at the stage of development when are yet low-specialized, ie have the ability to transform into all cell types of a body (nerve cells, cells of blood, bones, internal organs and tissues).
2. Fetal stem cells used by us for the treatment, have passed the primary differentiation. Our technologies allow to divide pluripotent stem cells into ectodermal (nerve cells, skin epithelium), mesodermal (cartilagineus, bone, muscle tissues, blood vessels, kidneys) and endodermal origin (intestinal mucosa, liver, pancreas, lungs). Thus, for the treatment of specific diseases, we apply complex preparations with the maximum number of stem cells of required type and achieve maximum positive results.
3. Fetal stem cells have not yet formed its own immune system - the body of the recipient does not recognize them as foreign cells and reaction of rejection doesn't appear.
4. Fetal stem cells have high proliferative potential - the ability to take root and produce numerous offspring in any organism.
The founder of a Unique Cell Treatment Clinic is an outstanding Ukrainian transplant doctor Alexander Smikodub. For fifteen years A. Smikodub developed innovative methods of treatment based on the use of fetal stem cells, as well as led the researches and introduced them into practice. Currently, his son - Alexander Smikodub Jr., MD, continues the work of his father. For this time was carried out more than 7,000 courses of treatment with FSC of patients from all over the world, which gave positive results.
 Unique Cell Treatment Clinic (UCTC) continues to improve the innovative methods of treatment and develop new complexes of preparations based on FSC. All successful developments have national and international patents.
During the clinic working time, patients from more than seventy countries around the world were treated here. Many patients confirm the effectiveness of our treatment. BBC TV created a documentary about Professor A. Smikodub and its methods of treatment with preparations based on fetal stem cells, where his clinic has been called "The Clinic of Last Hope".
Specialists of Unique Cell Treatment Clinic with preparations based on fetal stem cells achieve remission of most serious diseases. We achieve success in the treatment of diseases that can't be cured by any other known methods. For some patients, our treatment is the "last hope" and we are doing everything we can to help them. We have developed effective treatment methods for both acquired and inherited diseases associated with loss of cell mass in the human body. We successfully "fight" with the menopause, infertility, chronic fatigue syndrome and various disorders of the internal organs and systems.
Unique Cell Treatment Clinic helps patients all over the world every day. We will do our best for your successful treatment and improving quality of life.
Ulcerative colitis and Crohn's disease are severe autoimmune diseases in which the pursued traditional anti-inflammatory therapy is symptomatic, and this disorder often causes surgery and patient's disability.

UNIQUE CELL TREATMENT CLINIC has developed a comprehensive program with fetal stem cell application for effective anti-aging treatment. You can undergo the anti-aging therapy at any age and receive the most positive result